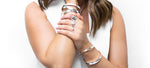 About Us
Mist has been a sterling silver jewellery specialist since opening in 2009, in the Adelaide Arcade.
With a reputation of outstanding personalised service, Mist focusses on contemporary designs from both Australia and Europe.
Offering a wide range of casual and formal jewellery for both men and women, Mist provide a personal keepssake accessory for any special occasion, as a gift or lasting momento.

Relax and enjoy our on-line store where ever you may be, offering exclusive one-off statement pieces and new collections added regularly.